Product Overview
4-Way Stretch Compression
4-Needleless Flat-seam Sewing Technique
Long-lasting and safe design printing
Advanced Fabric Performance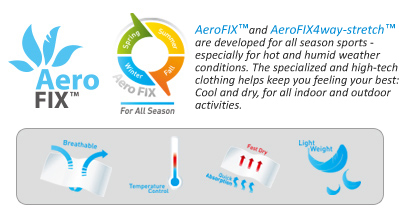 Reviews
(2 reviews)
Write a Review
5

Perfect fit!! Matching design to CFL-67.

Posted by Noah Gelber on 15th Aug 2014

I am probably one of the most faithful, enthusiastic clients of Fixgear Baselayer shirts. I have more than 20, they are always a perfect fit and function perfect for my professional activities. As an international choreographer and professional dancer, I need comfortable training clothes which move and stretch, breathe and dry quickly. These Fixgear Baselayer shirts are like a second skin. I wear them almost daily. The designs are innovative and unique, there is a large variety to fit different moods and tastes. I receive positive comments all the time about the riveting colors and tailored fit. I recommend them to my colleagues around the world.
Thank you Fixgear for creating these functional, attractive products! I look forward to the latest designs, always return to see what is new.

4

Great Design but fit needs work

Posted by Unknown on 6th Jun 2014

These are a great new graphic alternatives to other base layer tops. I wouldn't call them compression tops as the material is too light to achieve much compression. Also, the fit of the forearms needs to be tightened as that flap around rather than fit tightly around the forearm and wrist.